Advising is an important part of college education as it ensures students make progress towards their degree(s) and have a chance to consult with faculty members about opportunities to expand their skill sets and establish career goals.  At the Department of International Relations, it is expected that students will meet with their advisor multiple times throughout their college career.  If you are unsure who your advisor is or where to turn to for advising needs, please see below for more information.
If you have a declared minor (except for International Relations), please see your minor Coordinator.
If you are part of the SF State Scholars Blended Program, please see Prof. Darling.
If you are an M.A. student,  please see Prof. Skonieczny.
If you are a B.A. student (without a minor) or have only an International Relations minor declared, please see the chart below.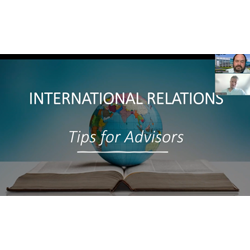 Tips for Advising
Watch this short informative video to learn more about advising in the Department of International Relations with Professors Jonathan Whooley and Anthony Pahnke.
Undergraduate Advisors
AY 2022-2023 Undergraduate Advisors
Student Last Names & Minor Coordinator
Name
Office
Email
Starting with A – BERD

HUM 249

Starting with BERL – DI

HUM 267

Starting with DS – HERN

HUM 246

Latin American Studies minors

SF Scholars Blended

HUM 427

Starting with HERR – KELLI

Migration and Refugee Studies Certificate
Global Peace, Human Rights, and Justice Studies minors
Middle East and Islamic Studies minors
South Asian minors
African Studies minors

HUM 280

bellis@sfsu.edu

Starting with KELLY – N

Prof. Pahnke
HUM 259
anthonypahnke@sfsu.edu

Starting with O – RE

European Studies minors

HUM 331

Starting with RI – S

Prof. Tsygankov
HUM 526
andrei@sfsu.edu

Starting with T – Z

Dr. Whooley
HUM 504
whooley@sfsu.edu
Graduate Advisors
Undergraduate Advising
Majors in the College of Liberal & Creative Arts (LCA) should consult with two advisors each semester:
an advisor in the major and
a general education and university requirements advisor in the Undergraduate Advising Center
Students who are completing a minor or an additional major should see an advisor in those programs as well.