The majority of SF State Abroad programs come out to be similar or cheaper than remaining in San Francisco because the tuition is the same and the cost of living (even in Europe) is so much cheaper in most places in the world. On an SF State Abroad program, students have access to their financial aid. SF State is a Top Producer for the Benjamin A. Gilman International Student Scholarship for the past twenty years with over 2 million dollars going to SF State students to study abroad! Additionally, students earn SF State resident credit!
International Relations majors have program options in nearly forty locations. Check out the SF State Abroad Program Database to see all possibilities. With too many to name here, we recommend the following top programs:
UK:
Cardiff University (Wales)
University of Birmingham (England)
University of Dundee (Scotland)
University of East Anglia (England)
Czech Republic:  Prague University of Economics & Business (VSE)
France:  Sciences Po
Sweden:  Linnaeus University – Vaxjo
Thailand:  Mahidol University
Hong Kong:  City University of Hong Kong
South Africa:  Nelson Mandela University
Taiwan:  National Taiwan University
Russia:  St. Petersburg State University
Isreal:  University of Haifa
Italy:  University of Pavia
Chile:  Pontificia Universidad Catolica de Chile (PUC)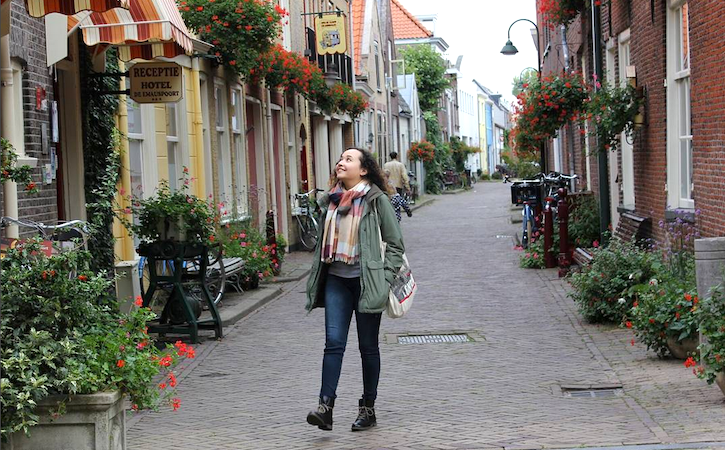 Dr. Scott Siegel, who as a graduate student participated in a brief course in Pavia, offers his insights on that experience:
Graduate Opportunities
The International Relations M.A. program offers a semester-long study abroad option for graduate students to complement the diverse curriculum at the San Francisco campus with an international experience and the opportunity to gain an Asian or European perspective on international issues. Students may choose to complete three elective classes in either Korea or Italy with no delay in their time to graduation.
Students with an interest in Asia may study at The Graduate School of International Studies at Chung-Ang University in Seoul. The School offers a full range of courses designed to develop pluralistic perspectives and the knowledge required in a globalized world. Using a multidisciplinary approach, the program seeks to expose students to a wide range of global issues while emphasizing critical understanding and analytic abilities.
The European option is at the distinguished World Politics and International Relations program at the University of Pavia.  Pavia offers courses in every major theme of IR: international political economy, global governance, intercultural relations, national and ethnic identities, foreign policy analysis, development studies, environment, international security, diplomacy, human rights, terrorism, media and more. Now, students have the opportunity to further broaden their experience by comparing what they learn in core courses with the approaches the Pavia faculty and students raise in interactive seminars about the issues that most interest them.