An International Relations degree provides a great advantage for a successful career in a world that is more globalized every day. International Relations is a versatile field of study amenable to your subject or area of interest.
The Breadth of Our Program
Our department offers strong foundation courses in International Relations theories, providing an understanding of current debates in the field and why they matter. We also offer a variety of elective courses, each taught by expert faculty. We span the planet from Asia to the Americas, to Africa, to Europe. In addition, we offer courses in every major theme of IR: international political economy, global governance, intercultural relations, national and ethnic identities, foreign policy analysis, development studies, environment, international security, diplomacy, human rights, terrorism, media and more.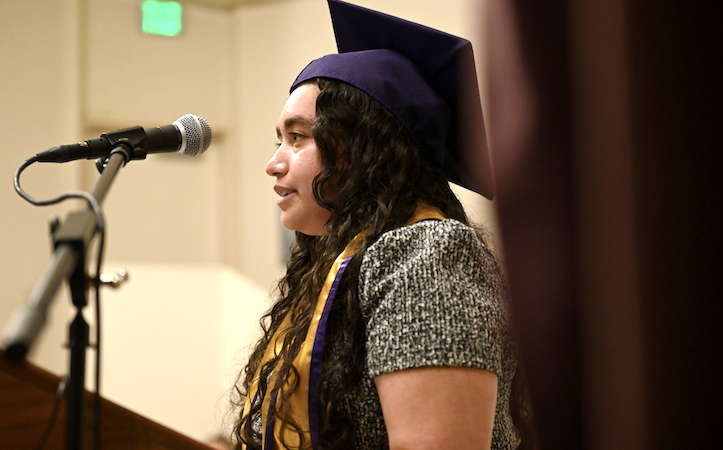 Alanis Galdamez, guest student speaker at the International Relations 2023 Graduation
The Diversity of Our Faculty and Student Body
Being part of our department is "living" International Relations. Our thirteen faculty members are devoted to their students and offer opportunities for close student-faculty interactions. The diversity of our faculty in academic specializations, as well as in national origin, ethnicity, gender and religion reflects the diversity of academia and the world.
With backgrounds from Political Science, Law, Mass Communication, Human Geography, Anthropology, Agricultural and Resource Economics, International Relations and area expertise in Russia, Europe, the Middle East, Latin America, Asia and Africa, our faculty is equipped to speak to almost any issue on the global agenda from a variety of perspectives. Our student body is as diverse as its faculty. When you study IR at SF State, you meet people from all over the world from all backgrounds and persuasions. Debates and discussions in the IR Students' lounge are an integral part of your education.
The Successes of Our Alumni
Our alumni can be found in a variety of positions across the world in international organizations, foreign services, non-profits, and in national and local governments. These include the U.S. Department of State, the German Foreign Ministry, the International Labour Organization, U.S. intelligence agencies, non-profit organizations in the areas of international development, human rights, environment and international migration as well as in the business sector. Some of our graduate students also pursue further professional or doctoral studies at high-ranking academic institutions around the world. Read their testimonials in our alumni section.
The City and Campus
San Francisco is the most diverse, dynamic, international and progressive hub of the Bay Area and the U.S. West Coast.
San Francisco is a truly global city. In the wake of World War II, fifty nations came together here to draw up the United Nations Charter, signed on June 26, 1945. One year later, our department founded by Professor Olive Cowell, became the first International Relations Department in the United States. The city is a meeting place for people from around the world and the second most ethnically diverse area in the U.S. SF State is among the twenty most diverse U.S. campuses and houses about two thousand international students. The city campuses are very accessible. Public transport options by BART and MUNI connect San Francisco and the East Bay, allowing students to enjoy everything San Francisco and the wider Bay Area have to offer. The city and neighboring communities, including Silicon Valley, offer access to thousands of international organizations and businesses.
The Department and Programs
We offer three degree programs in International Relations: an undergraduate B.A. (43 units); a minor (19 units), and M.A degree (33 units, including core courses, electives and a culminating experience). The programs stand out among similar programs at other institutions. They:
are taught by professors, not teaching assistants; professors do all advising
have a strong interdisciplinary character
enable undergraduates and M.A. students to earn credit for internships
provide internship assistance to M.A. students
offer a wide selection of International Relations courses every semester
allow students to specialize in world regions or themes of their choosing
include electives so students can tailor programs to their interests and take some classes in other departments
have ample opportunities for student-instructor interactions
are very affordable
The department also offers interdisciplinary minors in African Studies; European Studies; Global Peace, Human Rights and Justice Studies; Latin American Studies; Middle East and Islamic Studies; South Asian Studies; and Persian Studies.