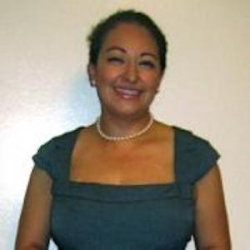 Veronica Lizeth Canton
Alumni
IP Practice Assistant & Spanish Interpreter for Pro Bono Cases, Reed Smith LLP
Veronica Lizeth Canton (B.A.,'04, M.A., '10) is balancing a successful career in the legal field with an array of non-profit work. She is currently part of an intellectual property litigation team at Reed Smith LLP at their offices in downtown San Francisco. She is also the firm's In-House Spanish Interpreter for Pro Bono Cases supporting a team of ten attorneys working on cases involving abused women and children. In her spare time she volunteers as a Spanish Intake Representative at the Legal Justice Center, and as a Board Member for the youth organization Americans for Informed Democracy.
"Throughout my undergraduate and graduate studies at SF State I made great strides forward, both academically and personally – it was a continuous learning experience."
Together with friends she met in the undergraduate and graduate programs in IR, she co-founded a non-profit organization to support the El Shadai Family Foster Home in Bugembe, Uganda. She re-established the Master of International Relations Student Association (MIR) in 2007 and became the Association's President. Her work for MIR included arranging public speaking workshops, study groups and social gatherings. Veronica also sent out weekly newsletters with job postings, internship opportunities and fellowships for IR graduate students. For her outstanding work in MIR, she was nominated by her peers and received the Outstanding Student Leadership Award for academic year 2007-2008. She received the Thomas Jefferson Award for public service in 2011 for the overall volunteer work performed with the various organizations.
Why did you choose SF State and the IR Department for graduate studies?
"My cousin, who was already in the undergraduate program, brought me along to Professor Andrew Hanami's seminar one evening and I was simply taken away by the class dynamics of the Seminar on American Foreign Policy. I knew right after that I wanted to enrol in the International Relations undergraduate program. I feel like I got a lot more value that I paid for with both the undergraduate and graduate degrees."
How has your IR education helped you in your professional career?
"I think the strength of both the undergraduate and graduate programs is that they give students strong skills in both reading and writing, in analytical thinking as well as in presentation and public speaking."
"Academically, my skills in reading, writing, and analysing complex issues improved significantly. I learned to write short, concise briefings and how to present my findings to an informed audience. I especially recall Professor Sophie Clavier and Professor Sanjoy Banerjee pushing me to the front of the line of presenters in the initial classes of the M.A. Program. As they already knew me from my undergraduate studies they said: "Since you already know how to do this Veronica, you are first out presenting." The program requirement for students to do briefing in many of the classes, certainly improved my presentation and public speaking skills."
"Beside the academic learning experience, the cultural and national diversity of my class was amazing – I never thought I would have friends from Italy or Nepal. The IR Programs connected me with the world. The knowledge I gained from my studies at SF State has also given me a much deeper understanding of the context of the legal cases I assist as well as a more informed understanding of global issues."