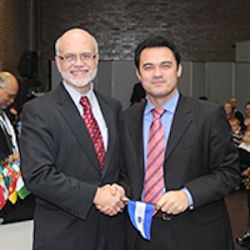 Foreign Service Officer, U.S. Department of State
Noel Hartley earned a B.A. and M.A., both in International Relations, from SF State (1997) and St. John's University-Rome, Italy ('05), respectively. Shortly after earning his B.A., Noel worked with a NGO based in Nairobi, Kenya, assisting refugees in various Sub-Saharan countries to resettle to the US. Afterwards, Noel began his career in foreign affairs as a Foreign Affairs officer at the Department of State coordinating the congressionally mandated International Religious Freedom Report for East Africa. Noel later worked as a political officer at the U.S. Embassy in Luanda, Angola and then as the Program Coordinator in the Office of Office of South Central Europe, Bureau of European and Eurasian Affairs before becoming a U.S Foreign Service Officer. As a diplomat, Noel has served in Central America, Asia and Africa.
Why did you choose to study International Relations at SF State?
"Honestly, I stumbled across the IR department. At the time I was convinced that international business was where my future was, but decided to take an Intro to IR class taught by Dr. Dwight Simpson on a whim. I was hooked after the first class. I had grown up overseas in Tokyo, so international relations was not foreign to me. However, Dr. Simpson engaged me and drew me into the subject like no other professor I had ever known. Subsequently, I quickly changed my major and spent the remainder of my time at SF State living and working in the IR lab."
"As is the tradition, IR majors finish with the 'feared' IR 550. It lived up to its reputation. My colleagues and I spent countless hours in the lab researching, writing and rehearsing our papers and presentations for that course and we took great pride in our efforts what we produced. IR 550 served as a barometer for all my other scholastic endeavors. I can sincerely say that the IR program and IR 550, in particular, greatly influenced how I approached and succeeded in my Masters program in Rome, Italy."
What were the highlights of your SF State experience?
"The highlight of my SF State experience was serving as a Teacher Assistant for Dr. Dwight Simpson for almost two years. Dr. Simpson introduced me to the theories of IR and the nuances involved in understanding those theories in practice in the real world. He taught me how to explain IR to those unfamiliar international diplomacy and geopolitics. That trait is something that, to this day, I still cherish and practice as a U.S. diplomat."
How would you rank the knowledge and skills you acquired from SF State relative to the Ivy League institutions?
"The IR program at SF State is incredibly well developed. The professors come to the department with a wide and deep breadth of knowledge and experience. Not only are they capable, but they bring to the department a truly international perspective, something essential to understanding geopolitics.
As a U.S. diplomat I worked in some of the most austere environments to the most sophisticated and developed cities. I worked on issues of private sector growth development in foreign markets to providing consular services to Americans affected by catastrophe. There is one common denominator: my core foundational education in the study of International Relations at SF State.
The framework provided at SF State is sound. The demand for solid, well researched and thought provoking work is high. This equation produces individuals who are well read, analytical and with a good work ethic. All these qualities are essential for entering today's workforce and succeeding. I would encourage anyone who has an interest in IR to explore what SF State has to offer."