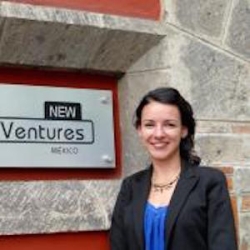 Margarita Gonzalez
Alumni
Portfolio Manager, New Ventures Mexico
Margarita Gonzalez earned her B.A. in 2012 from SF State with a major in International Relations and minor in Economics. She was hired by New Ventures Mexico (NVM) even before finishing her final project. "I really didn't expect to find a job before graduation, but the perfect position came up, I applied and was fortunate enough to get the job." NVM is a sustainable business accelerator located in Mexico City and Margarita is in charge of measuring and following up on the performance of its 35-company portfolio.
What made you chose SF State?
"San Francisco is the home of so many non-profit organizations providing opportunities for internships and learning activities outside of the curriculum. I especially appreciated being able to attend World Affairs Council events in downtown San Francisco. Location and good value for money were my main arguments for choosing SF State."
Did attending SF State help your career?
"I could not have been where I am now without the knowledge and experience I gained from San Francisco State."
"I could not have been where I am now without the knowledge and experience I gained from San Francisco State. What I learned in the classroom, through internships, study trips and the Study Abroad Program has helped me to narrow down my interests, pin-point my career goals and take steps towards what I hope will be the start of an interesting and enriching career."
Which were your favorite classes?
"International Political Economy with Professor Skonieczny was an eye-opener for me. Professor Blanchard's class on Multinational Corporations also shaped my worldview significantly, and I really appreciated Professor Monshipouri's class on Middle East Politics as well as Professor McAfee's International Political Economy of Food and Hunger."
Opportunities Made Available Through SF State
Margarita took full advantage of the wide range of opportunities offered by SF State. She gained significant experience through participating in Model United Nations and the Summer Institute of Latino Public Policy which took her to New York City and Washington DC during her undergraduate studies. Margarita also participated in a 12-day study tour to Mexico City with 15 other students through the US-Mexico Connection course led by Dr. Carrillo within the Latina/Latino Studies Department.
Study Abroad and Internships in Ghana
During her senior year, Margarita went to study abroad at the University of Ghana, Legon through the SF State Study Abroad Program. During that eventful year, she managed to complete three internships. One with the USAID-funded West Africa Trade Hub, one with the grassroots microfinance institution Women's Trust and one with Injaro Investments, which got her interested in impact investment – the field she is currently employed in.