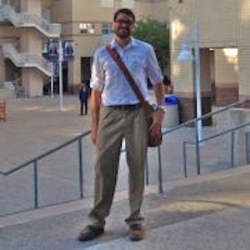 Ph.D. Program in Political Science, University of California, Irvine
Marcos Scauso graduated in 2012 with an M.A. in International Relations. He is now enrolled in a Ph.D. program at the Political Science Department at UC Irvine where he studies South American regional identities and teaches Cultural Anthropology to three classes of 40 students each.
"I appreciate SF State and the IR Department Faculty for being very respectful, knowing how to guide you through your studies and for showing a great deal of human understanding towards students."
The Masters Program in International Relations was a stepping-stone for Marcos who came to San Francisco State with a B.A. from a smaller university in Argentina. Marco's hard work in combination with the high quality of the SF State IR Department's graduate courses allowed him to receive accreditation for a full one-third of the requirements towards his Ph.D. This has enabled Marcos to focus more of his time on researching the subject he loves – identity politics.
During his graduate studies, Marcos was a Teaching Assistant for two classes and was the Vice President and Treasurer of the International Relations Council at SF State. He made many friends thorough the Program and is still in touch with many of his former classmates.
Why did you choose SF State for your graduate studies?
"I knew about San Francisco State already before I came to the United States. It has the most prestigious social science departments in the CSU system and I came across academic articles from SFSU professors already during my undergraduate studies. I also received a Federal grant through SFSU. Besides, the city of San Francisco is just beautiful."
How did the Master's Program affect your academic direction?
"Overall, the Department was very helpful with my Ph.D. aspirations."
"Professor Banerjee had a huge impact on my academic direction and provided a lot of feedback on my work, especially on my thesis. He still reads some of my papers even now that I have moved on. Professor McAfee was also an important influence and gave me generous support for finding and applying to Ph.D. programs. Ambassador Fisher taught an interesting class and helped me with many recommendation letters. Overall, the Department was very helpful with my Ph.D. aspirations. I appreciate SF State and the IR Department Faculty for being very respectful, knowing how to guide you through your studies and for showing a great deal of human understanding towards students. I highly appreciate the non-excluding character of the Faculty."