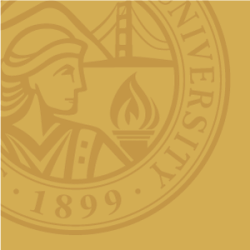 Program Manager, Grassroots Alliances
Katherine Zavala earned he M.A. in International Relations in 2005. Today, she is the Program Manager of Grassroots Alliances at IDEX - an organization working to alleviate poverty and injustice around the world. Katherine was a co-founder and the first President of the Master's student organization Master of International Relations, (MIR).
Why did you choose the IR Master's Program for your graduate studies?
"I used to live in Miami, Florida, and got my undergraduate degree at Florida International University with a minor in International Relations. I wanted to experience something different and the city of San Francisco with its diversity and rich culture appealed to me very much. San Francisco State also offered the most affordable IR program in the area."
How has the IR Master's Program helped your career?
"The Master's Program introduced me to a whole new level of analytical thinking and I improved my writing and research skills significantly. The awareness of theoretical perspectives on policy and politics is important for understanding the work I do at IDEX. I also discovered the non-profit sector while studying at SF State. The volunteer experience at Human Rights Watch and the UN Association gave me a lot of valuable experience."
"The Program provided me with broad knowledge of the world through courses focused on regions I wasn't too familiar with before. The internships I had during my studies were also key to realizing my first professional job. I volunteered at IDEX once a week and when an entry-level position came up; I had the advantage of them already knowing me and how I was to work with. However, the hiring process took over three months and was very competitive. As it required an advanced degree, I would not have had much of a chance without my M.A. in International Relations."
"The experience from forming the Master's student organization MIR and our activities developed my leadership skills. We organized bi-weekly 'student salons' at someone's house on a rotating schedule to discuss current topics in International Relations."
Were there any courses or professors you remember in particular?
"Professor Miller's International Political Economy was my favourite course. I remember that he encouraged class discussion but most importantly, he saw my potential and believed in my work – which I appreciated."
Internship in Central America
Katherine's culminating experience was an internship in Guatemala with AFEDES – the Women's Association for the Development of Sacatepéquez – an IDEX grantee Partner. Katherine helped empower indigenous women through a microfinance program, a weaving program and various agricultural programs. Today, she travels regularly to Guatemala, Mexico and South Africa to assess new grantees for IDEX.
Find out more about Katherine's work and IDEX.