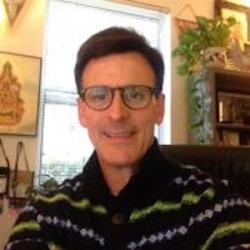 Associate Director, Office of International Programs, San Francisco State University
Jay Ward (B.A. '81) considered traditional IR careers, but opted instead to contribute to the growing field of international education. While he was deciding, he earned an M.A. in International Policy Studies at the Monterey Institute of International Studies and tried out the private sector, but felt the pull of university life. That choice eventually brought him back to his alma mater, where he draws on his own experiences at SF State, his study abroad adventure and his classroom learning to help globalize the campus community.
Why did you choose SF State and the IR Department?
"One of the reasons I chose SF State was because of the ability to double major in IR and Italian. That's why I came here. It was one of the few schools [to offer that]. Even though (UC) Berkeley offered Italian, IR was a concentration within PoliSci. I didn't want to get a PoliSci degree, I really wanted an International Relations degree. I was one of those kids in high school who knew exactly what I wanted to study when I went to university. I was intentionally looking for a program that offered those two fields as degree programs."
"I am originally from Ohio. What you do there is go to Ohio State. For me, I knew that I wanted to take advantage of the opportunity to break away from my small, farming village of 5,000 people and university would be the perfect time to do that. I wanted to see the world, to see more of the U.S. outside my immediate town and if I didn't do it then, I was afraid I might not. I researched universities that offered both IR and Italian as a double major and SF State was on the top of my list."
"I double-majored in International Relations and Italian back in the days when you could take two majors and still finish in four years. For me, it was a natural. My mother is from Italy originally and we had spent some time there as kids, traveling."
What career and educational opportunities were available to you with an SF State IR degree?
"My original interest was to work in the diplomatic field. I wanted to be a Foreign Service officer. I was really interested in taking the Foreign Service exam and in working overseas at an American consulate. One of my neighbors in my small farming village in Ohio was actually a former diplomat. I admired what he did and that had an impact on my decision to study IR and to dream about perhaps becoming involved in the diplomatic field, but the more I learned about it, what was involved and how the process works, I began to think that maybe that's not really what I want to do."
"I love international politics, I love learning about international people and cultures, but maybe my field would be law. Maybe I will become a lawyer who works with visas or international contracts or business dealings, helping international immigrants or refugees."
"I decided to delay the career search and go to graduate school. That is when I really learned how well prepared I was because of our IR program. I had the opportunity to meet students who had studied IR at the undergraduate level from around the country, around the world at other universities.  I felt that I was light years ahead of many of them, and they had gone to many prestigious schools."
"I found a job working with a small, cross-cultural consulting company at Union Square. I worked there for a couple of years and then there was an opportunity that opened up at Golden Gate University working in their international admissions department. I spent about 10 years at GGU. I started off doing international admissions, then the director left and I was promoted. Later, I was promoted to assistant dean of student services. I was still in charge of international student programs."
How did your experience at SF State and your IR degree help prepare you for your career?
"My first year was kind of rough. I wasn't sure if I would like San Francisco or the Bay Area. I had never seen fog before. I had the conception that this is California; it's going to be beach weather. So when I got out here, I was surprised. It was difficult to make friends, coming from a farming town where you went to kindergarten through high school with the same group of kids and all the families knew one another. I went back home in the spring, spent the summer there and I was looking forward to coming back again. I have been out here ever since."
"I actually worked in this office as a student assistant. I participated in the study abroad program when I was in my junior year. I went to Italy, of course, to Florence. Because of my background growing up in a bilingual environment, and having completed two years in the Italian bachelor's degree program here, I was able to enroll directly at the University of Florence and be an international student there with the Italian students as opposed to taking my classes at the study center with all the other CSU students in English. When I came back from that, there was a part-time student assistant position opening in our office. My job was to help students who wanted to study abroad: help them with their interview, help them with their application, serve on the selection committee for the next year's study abroad, do some of the marketing and promoting of the programs to the campus. When that position finished, I was able to transition to the international student side of the house and help with those programs. At that point, I was not even thinking about international education as a career option."
"I've been [back] at SF State now going on 23 years. I started off here at SF State as the coordinator of international student services at a time when the office was being completely revamped. I was in charge of orientation for international students, cross-cultural programming, workshops, advising for long-term international students. I went through that experience myself, so I had empathy for their experience, living in a foreign culture. Working in a foreign language, studying in a foreign education system. I relied on those experiences to help me put myself in their shoes."
"Ten years ago, I was promoted to my current position of associate director. I do a lot more management, administrative types of projects now. A lot less of the advising, but I stay up-to-date and I fill in when needed. I work with more campus-wide initiatives. This is my dream job, to work at SF State, at a place where I've had so many positive memories."