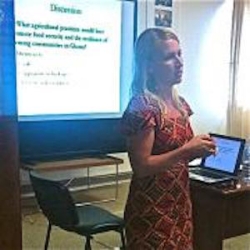 Jacqueline Ignatova
Alumni
Ph.D. Candidate, Department of Government and Politics, University of Maryland
Jacqueline Ignatova graduated with a M.A. in International Relations in 2007. She received the Distinguished Achievement Award for Academic Excellence for her accomplishments at SF State. She begun her Ph.D. studies at the University of Maryland in 2008 and is currently in the final stages of her doctoral program. Jacqueline recently returned from a Fulbright Grant-funded nine-month field trip to Northern Ghana where she studied agricultural modernization. She also received the Ann G. Wylie Dissertation Fellowship, a competitive scholarship, to finish her dissertation titled: "Seeds of contestation: Genetically-modified crops and the politics of agricultural modernization in Ghana." Jacqueline is teaching an online class this summer based off of some of her research entitled "The Politics of a Warming World: Environment, Development, and Food Security."
Why did you choose to study at San Francisco State University?
"I earned my B.A. in an interdisciplinary program called Global Studies from UC Santa Barbara. I was drawn to International Relations at SF State because it is multidisciplinary and not limited to traditional academic boundaries. SF State also offered a freestanding program in International Relations, which I was attracted to."
How did the SF State experience affect your direction?
"We were fortunate to have such a fantastic class with many brilliant people from all over the world."
"My studies at SF State definitely shaped my research trajectory and desire to pursue a Ph.D. Professor Miller's class on International Political Economy stood out for me. Through it, I was exposed to a great scholar in Ecological Economics, Herman Daly, whom I was fortunate to take a class from at the University of Maryland before his retirement. I have used Professor Miller's textbook for my lectures at UMD as I find his wide range of perspectives on political economy and ability to convey complex material clearly very useful as a teaching tool. Another class that inspired my thesis was Professor Clavier's International Law class. Professor Clavier is such a passionate instructor and great at facilitating class discussions – she got the conversation going and we had a really great discussions in that class."
What were the highlights of your SF State experience?
"The trip to the International Studies Association (ISA) conference in Honolulu was a wonderful experience. Having been there and knowing what to expect from a conference like that relieved some stress from presenting my research in other forums later on. A classmate negotiated a good deal for us to go on the ISA trip as a group. We were fortunate to have such a fantastic class with many brilliant people from all over the world. Apart from the academic experience, I have made life-long friends and also happened to find love at SF State!"