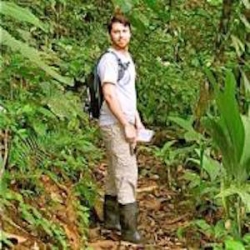 Creative, Strategic Business Development Specialist
Andrei Faji (B.A. '12) is an excellent example of the diverse use an IR Degree can be put to. As a young entrepreneurial person, he started out as a business major but transferred to IR half ways through college. After graduation, Andrei travelled to the Costa Rican rainforest to live in and work for an ecologically sustainable tree-house community and rainforest conservation initiative. He is now spearheading a creative media agency in Austin, Texas.
Why did you choose to study IR at SF State?
"Studying International Relations taught me how many problems the world has – which inspired me to work on or develop business opportunities with social benefits."
"I took Introduction to International Relations and was blown away. Learning about foreign policy and IR theory resonated with my background. My parents escaped from Romania in the late 1980's when it was still a Socialist Totalitarian state; I was only a young child at the time but discussing International Relations connected me with my family's history and gave me a deeper insight into the factors that caused their (and many others') political refuge."
Rainforest conservation and tree-house living in Costa Rica
"Without going into details, I can say that a lot of things I had read about in my IR textbooks, I experienced in Costa Rica."
After graduation Andrei went to work for a start-up company in the online advertising space. "I spent a year in the company and met some amazing people during that time. It was a great experience, but not really what I wanted to do in the long run. I had travelled to Costa Rica a year prior to visit a sustainable tree-house community called Finca Bellavista, so I sent them an e-mail in which I offered to work with them and develop their business. They accepted my offer and invited me to come down to Costa Rica. Finca Bellavista is located near the Osa Peninsula, which is scenically one of the most beautiful places I've ever been to on this planet. Finca Bellavista is a sustainable development located on a 650-acre patch of pristine rainforest with a small part sectioned off for a tree-house community. It made me think about how we can comfortably live in harmony with nature and provide economic opportunities for people in rural areas without depleting natural resources." Andrei's work for Finca Bellavista included trips to the capital San José for talks with political leaders regarding rainforest conservation and helping launch their non-profit, the Bellavista Initiative. "Without going into details, I can say that a lot of things I had read about in my IR textbooks, I experienced in Costa Rica."
What would be your advice to incoming students?
"This may sound a bit cliché but find simplify your life, find something that you're passionate about right now, work hard and pursue your dream relentlessly. We're given a finite amount of time to create our masterpiece in this world, the only question is how big of a masterpiece do you want to create and how much time do you want to invest in it? Also, be open to failure. Once you realize that failure is a necessary process to defining your life and your craft, it becomes a lot less scary."
Learn more about the sustainable tree-house community Andrei worked with in Costa Rica by visiting his website.