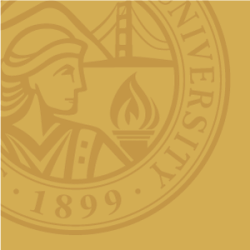 Dr. Suzanne Levi-Sanchez
Alumni
Ph.D., Political Science Rutgers, The State University of New Jersey
Suzanne Levi-Sanchez graduated with an M.A. in International Relations is 2008 and continued straight into a Ph.D. program in Political Science at Rutgers University with a focus on Iranian politics, language and culture. She just defended her dissertation, "All Institutionalization is Local," and she is moving on to Princeton University. Suzanne's accomplishments from the day she enrolled in the Graduate Program in IR at SF State to the present day have been truly remarkable.
"I never thought I would be able to earn a Ph.D., and none of it would not have been possible without the support of the IR Department Faculty – it's a dream come true."
Suzanne, a mother of two with a background in theatre and journalism, hadn't considered graduate school before one day when a friend commented on her research on Iran that she had done out of curiosity and interest. "You should do something with your interest, my friend told me, so I called up the International Relations Department and got to speak to Professor Sophie Clavier who gave me instructions on how to apply for the Master's program." Suzanne ended up writing her thesis on nationalism in Iran titled: "Myth objectives: the social construct of narrative influence in Iran," for which she received a book contract offer. She is currently turning her dissertation into a book with the support of a fellowship from the International Research and Exchange Board (IREX). Suzanne has written a number of articles for the San Francisco Chronicle, some with Professor Clavier from the IR Department.
What are your memories and impressions from the IR Master's Program?
"The International Relations Master's Program at SF State was a wonderful program, and I am still in touch with many of the professors. In fact, five IR faculty members have supported me throughout my Ph.D. Program at Rutgers. During my studies at SF State they all welcomed me, mentored and helped me with the readings. They also talked me into pursuing a Ph.D., and I ended up applying to seventeen Ph.D. Programmes."
Field research in Afghanistan and Tajikistan
Suzanne currently speaks five languages and is learning two more. Besides English and German, she has learned to read, write and speak Persian, Dari, and Tajik. She is now learning Russian and Pashto. A part of Suzanne's work in Central Asia has been to assess the Aga Khan Foundation's Drug Demand Reduction Program in Badakhshan, Afghanistan and working with the UN as a Ph.D. Research Intern under the Northern Afghanistan Border Management Project. She has also conducted research for UCLA in the region and partnered with OSCE. For her research in the border region of Tajikistan and Afghanistan, Suzanne had to rapidly learn the vocabulary of village dialects. For her language studies, she has been awarded a Department of State Critical Language Scholarships.
International Conferences
Suzanne has been invited to speak at universities and conventions in India, Turkey and Iran. Her research has been presented at numerous International Studies Association (ISA) conferences and Midwest Political Science Association Conventions. In addition to her upcoming book, Suzanne's work will appear in two book chapters expected in 2013.